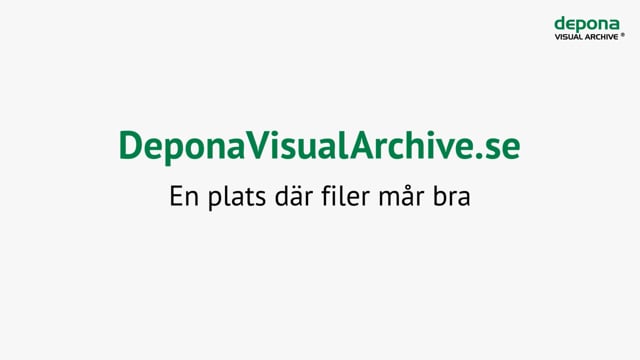 Visual Archive® in 1 minute
Looking for somewhere to store your digital documents for the long term? Maybe you have documents spread across different places that you would like to bring together and access no matter where you are.
DeponaVisualArchive.se - the feel-good place for files!
Play movie.
Better control, availability and easy to use. Depona is an independent Swedish company, our archive servers are located in a secret location in Sweden.
Visual Archive®is Depona's own archive software and we guarantee you and your archive absolute confidentiality.
All data stays in Sweden and there is no processing of data.
Visual Archive gives you full control and an overview of your archives, regardless of size. You upload information and have access to your archives from anywhere, from any device, whenever you want. We guarantee functionality, availability and reliability. Insurance and the ability to secure documents and data are included.
As if that's not enough,
it is easy to use:
Email your files for archiving

Share access to your individual files or your entire archive to outsider

The "Drag and Drop" function makes it easy to move important information to the archive
Visual Archive® is a secure and certified digital archive solution
Visual Archive complies with laws and requirements set by Swedish authorities with respect to digital archiving
Depona AB is certified by the independent Bureau Veritas in the area information security according to ISO 27001. For ISO certified archive solutions,
such as e-archives, please contact Depona AB, www.depona.se

Depona's business concept is to offer companies, organizations, government agencies and municipalities the best physical and digital archive services on the market. Our vision is to constantly renew the Swedish archive market with innovative, user-friendly and customized archiving solutions that are service-oriented, flexible and not least cost-effective. Read more